PARTNERS IN HEALTH
Everything you need – in both sickness and health.
We're here for you – by your side, on your side with 24/7 support for nearly everything that ails you. Pre-schedule video visits whenever you need (8AM-8PM, 7 days a week) – or hop on an urgent care visit with a clinician at any time (24/7/365).
A few of the services we offer:
Allergies, Asthma, Cold, Flu
Wellness & Preventative Care
Sexual & Reproductive Health
Family Planning
Stress, Anxiety, Depression
Chronic Condition Management
Fitness & Nutrition
Prescription Refills
And Many More!
We don't charge any monthly or annual fees to join CloseKnit. Your regular co-pay covers video visits, and messaging with your Care Team is always free. If you have any questions, your Health Navigators are available 24/7 to help navigate your bills and benefits.
A team of medical experts focused on you
Taking care of your health involves more than just a doctor's visit. Our Health Navigators are here to guide you along your healthcare journey:
Helping with your plan, benefits, and billing questions
Finding and scheduling appointments with specialists
Locating the pharmacy closest to you
You can take advantage of these services whenever and however much you desire – it'll always be free.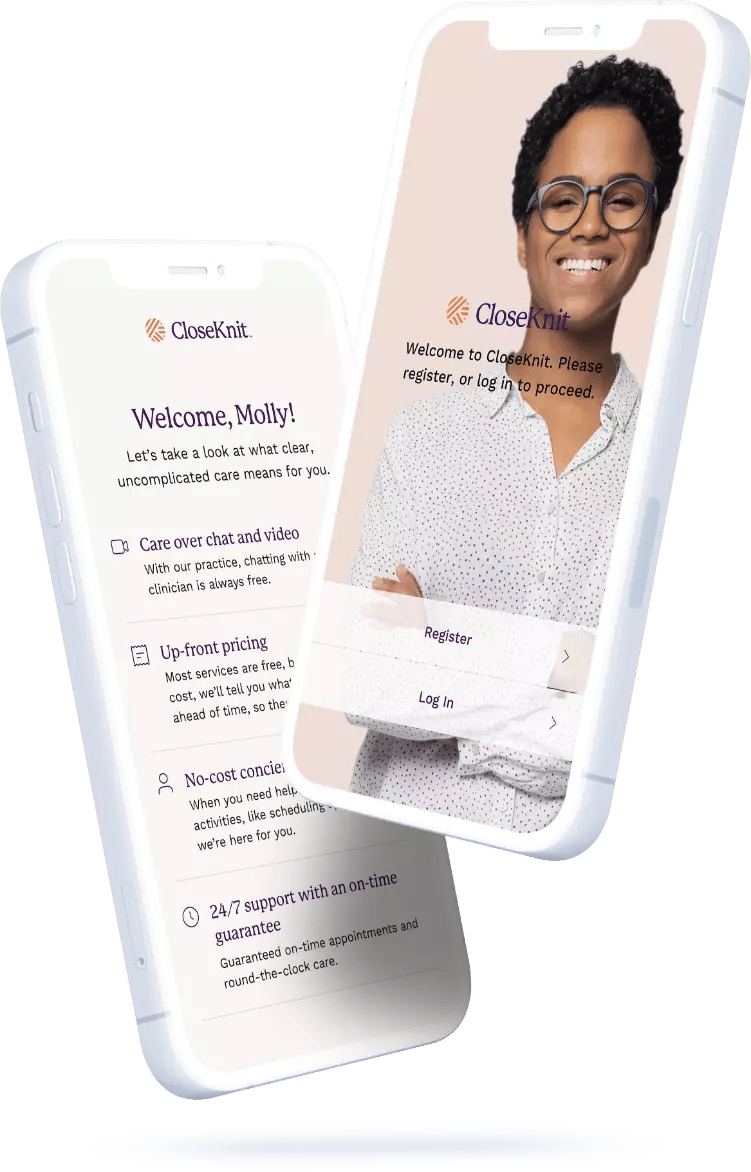 CARE OPTIONS
Preventive Care
Care isn't just for when you get sick. We're passionate about helping you get healthy and stay healthy with annual wellness visits, disease prevention, and lifestyle advice.
Urgent Care
When you're sick, you should never have to wait a week to see a doctor. With access to 24/7 care and same- or next-day virtual visits, we'll help you get on your way to feeling better, faster.
Mental Health
Your mental health is a crucial part of your overall wellness. Whether you're feeling off or experiencing depression, anxiety, or something else, our Care Team is here to listen and help.
Chronic Conditions
We understand the complexities of managing ongoing or chronic conditions. We provide treatment plans personalized to your needs and the best solutions to keep you a step ahead.
Care Coordination
Whether you're generally healthy or dealing with unexpected challenges, we'll connect you to the most appropriate support you need – how and when you need it.